After spending a month in Iceland, I realized there are a few ways to get around this beautiful country. I even got to try a few different modes of transportation! I definitely had my preferred method of travel but there are so many ways of getting around while in the Land of Fire and Ice.
Campervan
I knew I wanted to rent a campervan when I was in Iceland. This way I could drive, sleep and cook in the comfort of my very own tiny home on wheels!
This was, hands down, my favorite way to get around Iceland! I rented a campervan from Kuku Campers and it was exactly what I needed. It was big enough for one person but spacious enough for two. I ended up using the front seat as storage since I was solo. It was equipped with everything including a clean sheet, stove, dishes and cookware.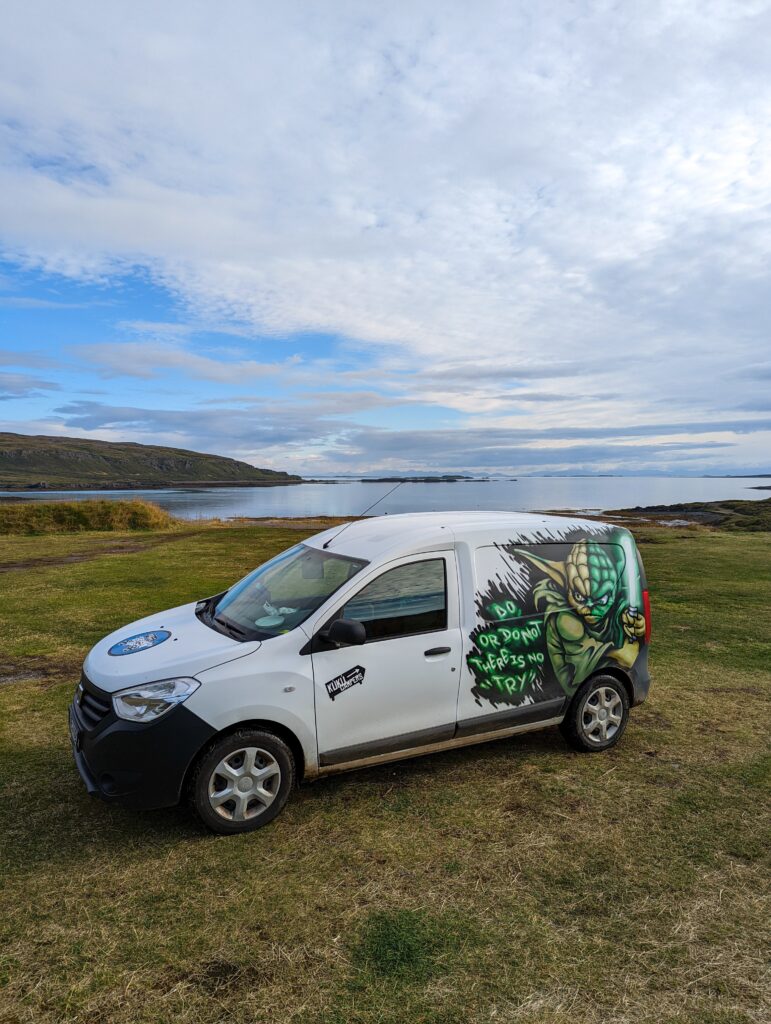 Kuku Campers also has a shuttle service that will pick you up from the airport when you arrive and drop you off at the end of your trip. And everyone who works at KuKu Campers is so friendly and helpful! They even e-mailed me when there were strong winds to let me know and I ended up not driving much that day.
I cannot recommend Kuku Campers enough for your next trip to Iceland! Takk Kuku Campers for the most epic Icelandic adventure!
Reykjavík Excursions
I booked four shuttles with Reykjavík Excursions. Two airport shuttles and two Highland shuttles.
It was really easy to book online and the best way to get to the Highlands without 4WD. The craziest part was driving through a river in the shuttle!
Reykjavík Excursions also has shuttle tours to The Blue Lagoon, Golden Circle and even the Snæfellsnes Peninsula. This would be a good option if you are short on time and don't want to rent a car.
City Bus
My original plan was to take the Reykjavík Excursions shuttle from Skógar back to Reykjavík but there was a seven hour layover in Hvolsvöllur and I didn't want to wait.
So, I ended up taking the bus from Hvolsvöllur and transferred twice to get back to Reykjavík. It took a pretty long time but was faster than waiting seven hours. I had also just finished backpacking the Highlands and all I wanted was a shower and to sit in a hot pot.
If this is your only mode of transportation, expect it to take a long time to get from place to place. I would recommend it if you are only planning on exploring Reykjavík!
RV
Renting a RV in Iceland could be a good idea if you are traveling with family or a big group of friends. I did see a few on the road but they were driving really slow.
The only reason I would never rent a RV is because of the price it would cost to fill up on gas. Also, the campsites you stay at have bathrooms and showers so I feel like it would be a waste of money to have all those extra amenities when you don't really need them. I did look into them before I flew out to Iceland and they were crazy expensive!
Overlanding
I have seen more and more overlanding recently and there were a lot of overlanders in Iceland. If you don't know what this is, it's a pop-up tent on top of a truck or SUV. While I haven't ever tried this type of trendy camping, I am sure it's a great way to explore Iceland while saving space in the car.
I don't think it would necessarily be warm in a pop-up tent and would feel a bit like the unwanted top bunk of a bunk bed. Also, how much of a chore would it be to have to pee in the middle of the night?
It would probably be cheaper than a campervan and RV and roomier than a car. Also, you wouldn't need to rent or bring a tent. I just feel like if you are going to overland, why not just get a campervan?
Rental Car
Most people end up renting cars in Iceland because it's cheaper and they are plentiful. This could be a good way to get around Iceland, however, you are not allowed to sleep in your car. You must bring a tent and camp at a campsite, stay in hotels or rent a room for the night. In some of the smaller towns, accommodation can really be hard to find and in the Capitol City of Reykjavík, rooms are just out of control expensive!
Also, because a lot of the roads in Iceland are gravel, you need to be careful about what kind of car you rent. 4WD would be your best bet! I actually met a few people who bottomed out or their car stopped working on the F Roads (Jeep roads in the Highlands) and they needed to get towed.
If you plan on renting a car, I would recommend getting a high clearance 4WD car. Even if you are not planning on driving on the bad roads, it would give you a piece of mind on the gravel roads which can also be a bit slippery.
Motorcycle
I have only rented a motorcycle once when I was Vietnam but it was so much fun and a great way to see the country. I would imagine Iceland would be incredible on a motorcyle!
I met a couple at a campsite who were exploring Ring Road by motorcycle and said it was the best. The only thing I would be worried about are other drivers on the road since most of them are probably tourists. I also think the weather would be a factor especially in the rain, wind or snow.
Staying at a campsite is required for all motorized vehicles but gas for a motorcycle would be way cheaper than a car. If the weather is going to be perfect during the days you will be in Iceland, I think a motorcycle tour would be epic!
Electric Scooter
When I arrived at my campsite in Iceland, the guy at reception told me I should rent a Hopp scooter to get around Reykjavík. It was some of the best advice!
All you have to do is download the app, scan the QR code and start riding. The scooter costs about $5 for a three mile ride and they were usually just hanging out waiting to be rented.
Just a note, that if you go out of bounds, your scooter will stop working and you will not be able to restart it. This happened to me when I was in Reykjavík on the pier but the scooter does warn you it will end your ride if you don't get out of there.
Riding a scooter is a super fun way to get around Reykjavík! I even saw them in some towns around Ring Road. Highly recommend renting one if you want to explore faster than you could on foot.
Bicycle
I met a few people who were bike packing around Iceland. While this is a great idea in theory, the weather conditions make it less than ideal. My mind keeps going back to the crazy wind and how it felt just driving through it! I met two girls who were bike packing and told me they were walking their bicycles that day because of the wind. Everyone I saw biking through Iceland looked really cold and were wearing tons of layers.
One of the benefits of biking around Iceland is you can literally camp anywhere and for free! But I don't think biking would be the way to go unless you are looking for a seriously windy challenge.
Hitchhiking
During my road trip through Iceland, I ended up picking up a hitchhiker! She was British and was hitching all around the country. We ended up hanging out for two days and explored the West Fjords and Snæfellsnes Peninsula together.
The best part of this form of transportation is it's free! And Iceland is a very safe country to hitchhike in. Also, if you plan on hitchhiking, you are able to wild camp anywhere in Iceland. You don't need to stay at a campsite.
However, you probably won't be able to do everything on your list and will most likely have a lot of cold and windy nights camping. Another thing that I've noticed about hitching, as I've done it before, is you never really get dropped off exactly where you want just where is most convenient for the driver.
Walking
I seriously saw a girl walking Ring Road with a huge pack on! She wasn't hitching or asking for rides but she looked miserable. I actually saw her twice while driving by in my campervan. I am not sure if she was walking the entire 822 miles but it didn't look fun.
When you are on foot, wild camping is allowed anywhere in Iceland. But since the island country is so spread out, you most likely won't be able to get food until you get to a bigger town. Plus, the weather is so unpredictable, you literally never know what you're gunna get.
While walking through Iceland may be free, I wouldn't recommend it as the weather and lack of civilization will be a huge factor.
Have you ever visited the Land of Fire and Ice? How did you get around?