I just got back from an incredible month long adventure in Iceland! Iceland has been on my Bucketlist forever and I finally decided to visit the island country instead of saying "I'm dying to go there". It was everything I wanted it to be and more! However, there were quite a few things I didn't know about before heading out there. Here are a few tips that will help you plan your trip to the Land of Fire and Ice.
1 – Rent a campervan months in advance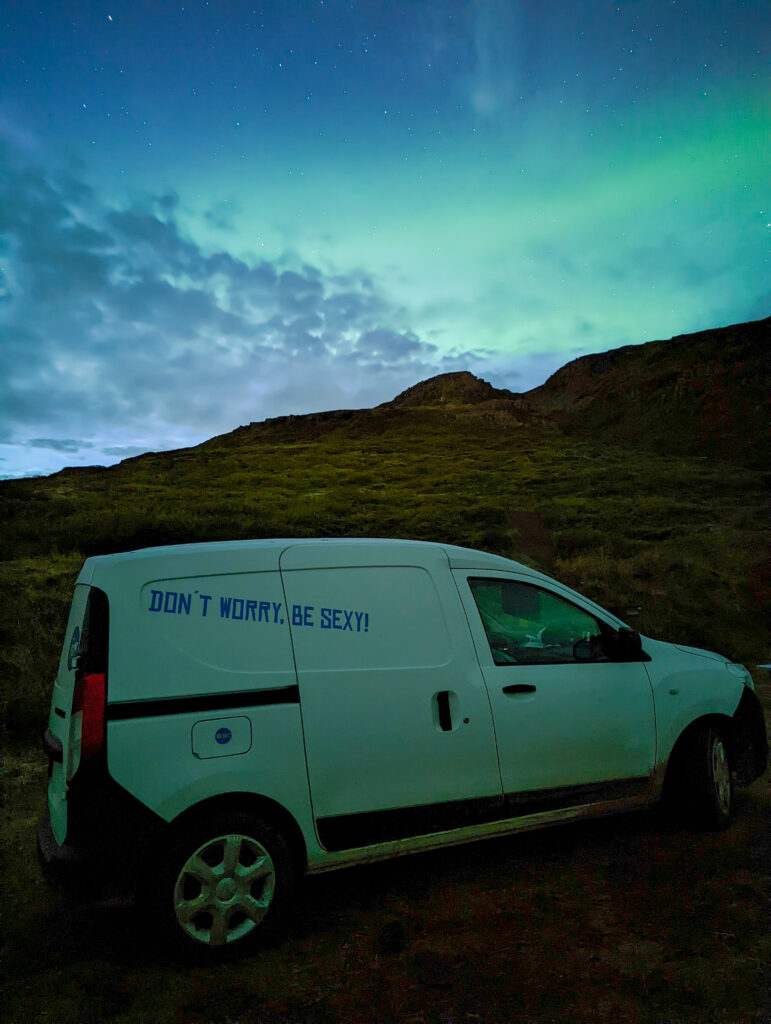 Driving through Iceland in a campervan is the best decision you will ever make. I loved having the freedom to eat, sleep and chill in my tiny home on wheels. It was the ultimate road trip!
I rented a campervan from Kuku Campers a couple months before my trip. Their price point was reasonable and they have some seriously cool looking vans! I contacted them a few weeks before my trip to see if I could switch to another van with a heater and they were completely sold out.
This is why you need to book a campervan as soon as you know the dates you will be in Iceland especially if you will be traveling during the months of July or August which is their peak season.
I highly recommend Kuku Campers if you are planning on road tripping around Iceland! They were very helpful and super friendly. I loved how they were easy to get ahold of during my trip as well. They also provide a free shuttle service to and from the airport.
2 – Bring a debit card
I always bring two credit cards and two debit cards when I travel abroad just in case I lose one or one of them stops working. This actually happened to me in Bali so it totally happens and I have experienced it firsthand!
But the reason why you absolutely need to bring a debit card to Iceland is if you are planning on filling up your rental with gas. Most stations do not have an attendant and those stations also do not take credit cards. And if you arrive after the station is closed, you can only get gas with a debit card since no one will be working inside.
After realizing this, I started filling up during the day at gas stations with an attendant so I could use my credit card and get points for the big purchase. I would even do this if I had half a tank of gas left.
3 – Most campgrounds have showers and laundry facilities
If you are planning on camping in Iceland, you must stay at a campground as wild camping is not allowed unless you are on foot or bicycle. I didn't know what to expect at the campgrounds in Iceland but was pleasantly surprised with them!
There are hot showers and laundry facilities at most of the campgrounds I stayed at. Sometimes you had to pay a few dollars to use them but I thought it was definitely worth it. Most of the campgrounds had kitchens to cook in where you could wash your dishes too. I also liked that you didn't need to reserve a campsite ahead of time and could just show up and pass out.
Campgrounds in Iceland are basically big plots of land and you can park and camp anywhere. You will be surrounded by other campervans or RVs and it's fun to chat with other travelers who are staying there.
4 – Ring Road is over 800 miles
Ring Road is one of the most famous roads in the world! But what most people don't know is that it's over 800 miles long. I wouldn't suggest driving the entire road unless you are not planning on hiking and really like driving because you will be in the car the majority of your trip.
Another thing to take into consideration is most of the cool things you will want to check out are off Ring Road. Most of the time, you will have to drive on an unpaved gravel road and it definitely takes up a lot more time because you have to drive slow.
It literally took me ten days to drive most of Ring Road and I still missed a lot of things! If you only have a week in Iceland, I would suggest exploring the Southern Coast, the Golden Circle and the Snæfellsnes Peninsula instead of attempting to drive the entire Ring Road.
5 – Visit the swimming pools
This man I met on the plane told me I had to check out the local swimming pool in every town I visited in Iceland. Swimming pools in Iceland cost around $5 to get into. I opted to visit the swimming pools often because I could shower there as well. My favorite swimming pools in Iceland were Laugardalslaug in Reykjavík, Westman Islands and Akureyri.
The best part about the swimming pools in Iceland are the hot pots! There are usually multiple hot tubs at the local swimming pool with varying temperatures, swimming pools (of course) and waterslides for kids and adults.
Another reason why I enjoyed going to the swimming pools is because it's what the locals do! I love immersing myself into the culture when I am visiting a new country. Just be warned, you must get fully naked and shower with soap before going to the pool area. There are even employees who enforce this. While it was a little awkward at first, I got used to it and started to embrace the Nordic way.
Have you been to Iceland yet? What are some tips you would suggest?