While I was sure nothing would be able to top the incredible Arches National Park, I still had 3 more National Parks to explore.  Next stop, Capitol Reef!  This National Park was one I had never even heard of before I started my Quest for 59.  It is called Capitol Reef because there is a rock formation of white domes and cliffs that look like the Capitol building in Washington, DC.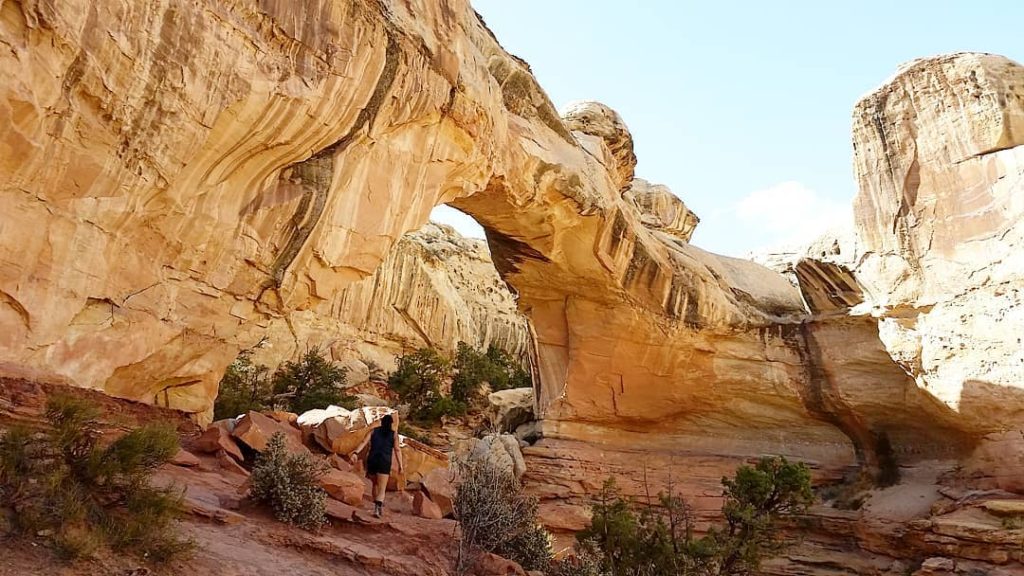 I ended up checking out Hickman Bridge, a short 2 mile hike which boasts a large natural sandstone bridge formed by water.  It was really hot and this trail was uncovered so I took my time on this hike.  I ended up seeing maybe 2 people on the trail which was great!  I think most people were turned off by the heat but the trail to Hickman Bridge wasn't very strenuous.  Even though I didn't spend more than a few hours at Capitol Reef, it really wasn't anything to write home about.  If you are torn between this park and another one of Utah's Mighty 5, I would say hard pass on Capitol Reef.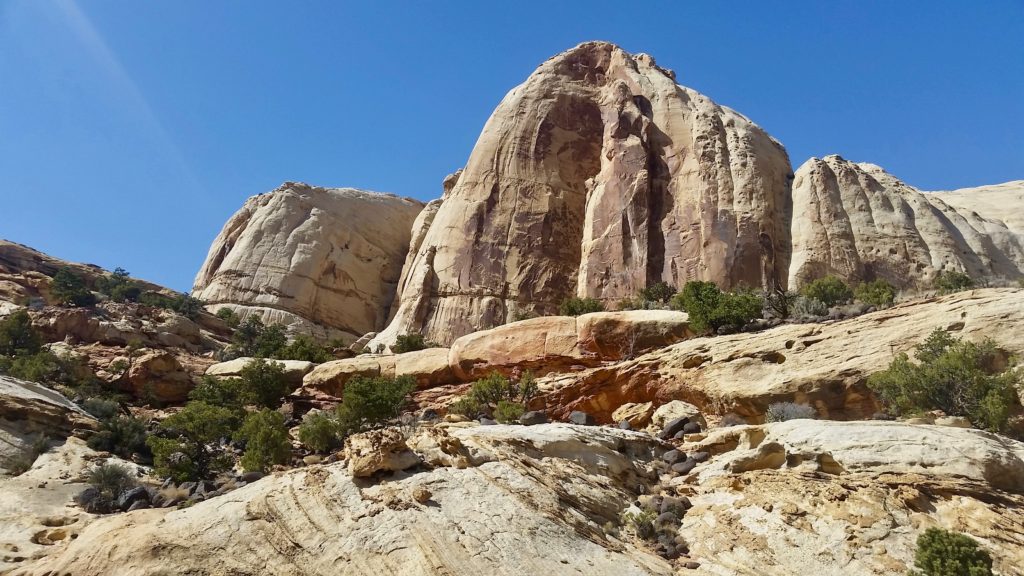 After Capitol Reef, I started driving to Bryce Canyon.  By the time I got to my campsite, the sun was setting and it was really freaking cold and windy.  I ended up going to sleep early and woke up in the middle of the night freezing!  I looked outside of my tent and it was snowing!  I didn't have my puffy jacket since I lost it on the way down the Grand Canyon so I ended up going to my rental car to sleep for the rest of the night with the heater on.  I left really early in the morning because of the cold and wanted to get to Queens Garden before any other hikers.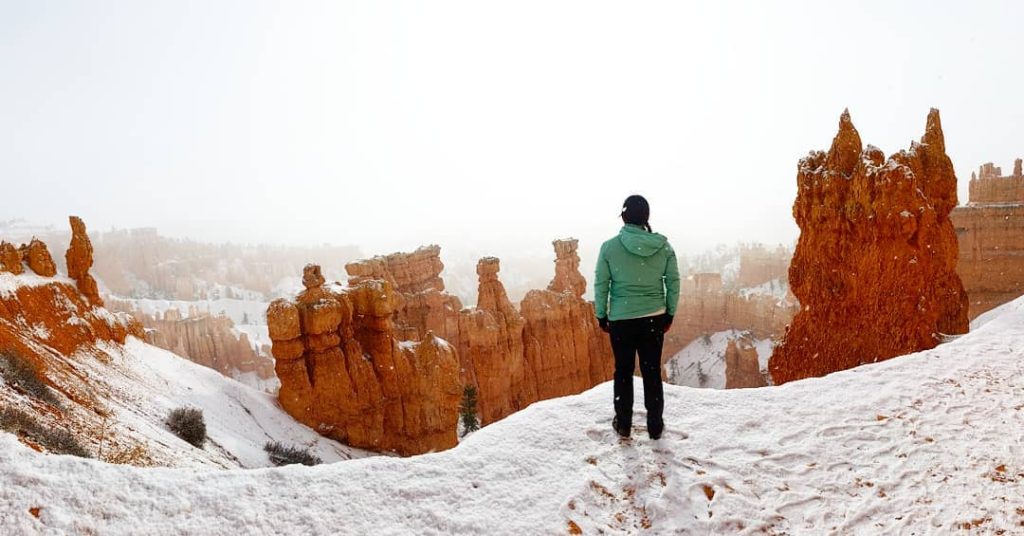 I am so glad I did!  I ended up seeing Bryce Canyon covered in snow which was absolutely beautiful!  The incredible sandcastle rock formations which are called hoodoos are so unique and I have never seen anything quite like it before.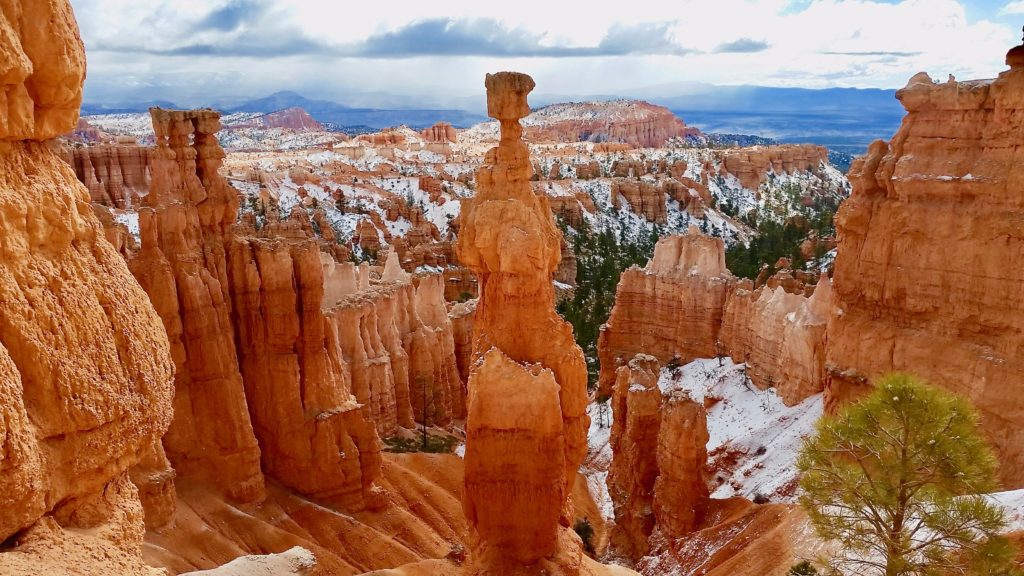 I hiked Navajo Loop to Queens Garden and was welcomed with sun as the morning wore on.  It was still snowing but I wasn't freezing like I was at the start of the hike.  I loved this because you could see the powder covering the sandcastles but it wasn't cold and blistery anymore.  Did you know Bryce Canyon isn't actually a canyon?  It is a collection of giant natural amphitheaters carved out by ice and rain and the hoodoos are created by frost wedging.  Bryce Canyon ended up being my favorite out of Utah's Mighty 5 and I highly recommend a visit here if you love rock formations.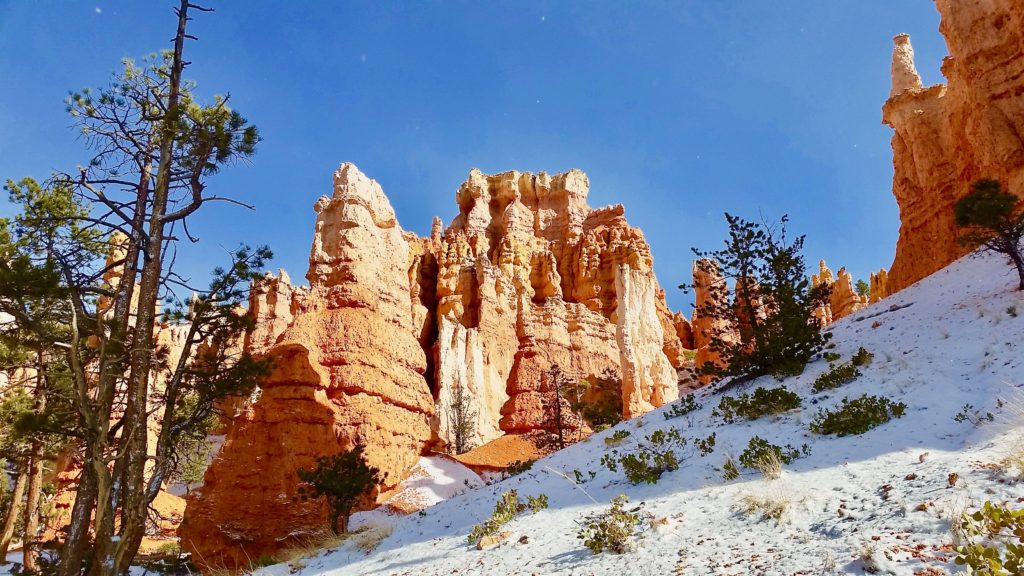 After my snowy adventure at Bryce Canyon, I had one more National Park left on my list, Zion National Park.  I had heard nothing but good things about this park and was really excited about checking it out.  I knew I was going to hike Angels Landing but didn't have any other hikes planned.
I got to Zion around noon and wanted to see if any campsites were available even though they said they were all full at the entrance.  I checked out Watchman Campground and they said they had a group site available!  Score!  After I set up my tent, I went to check out Hidden Canyon.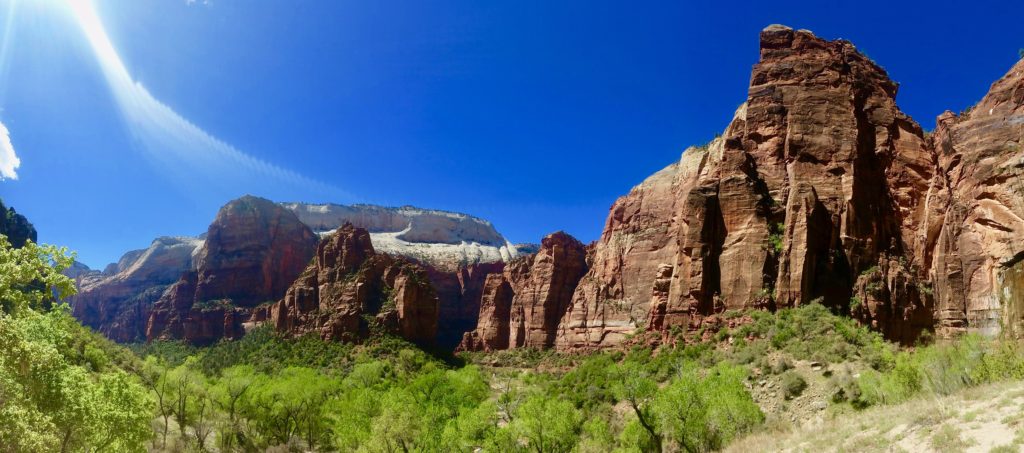 Hidden Canyon is a short 3 mile hike with incredible views.  My favorite part of Hidden Canyon was the narrow trails on the edge of a cliff with chains to hold onto.  You can really see how vivid and huge the red rock mountains are from up there!  The canyon is hidden alright but it's also really small.  Once you hike past it is when the real fun begins!  You get to climb over logs and rocks on your way through the next portion of trail which really makes you feel like a kid again.  On the way back, I stopped by Weeping Rock which forks off at the start of the Hidden Canyon trailhead.  It is a rock that hangs over and "weeps" water from up above.  There were so many people here so I didn't stay long.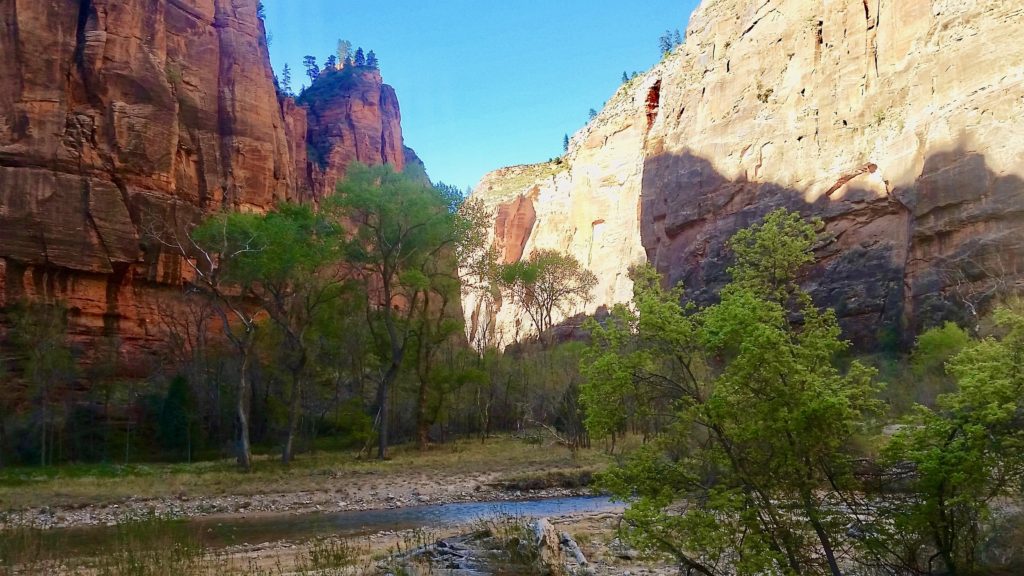 My next hike was the Riverside Walk which is the beginning of The Narrows, a popular hike at Zion that requires you to walk through water in order to view the narrowest part of the canyon.  It was flat and easy which was nice but because of this, it was also really crowded.  You are walking along the Virgin River which is just beautiful but the water is pretty freaking cold which is the reason why I decided not to hike The Narrows.  I actually met a woman from my hometown here as well!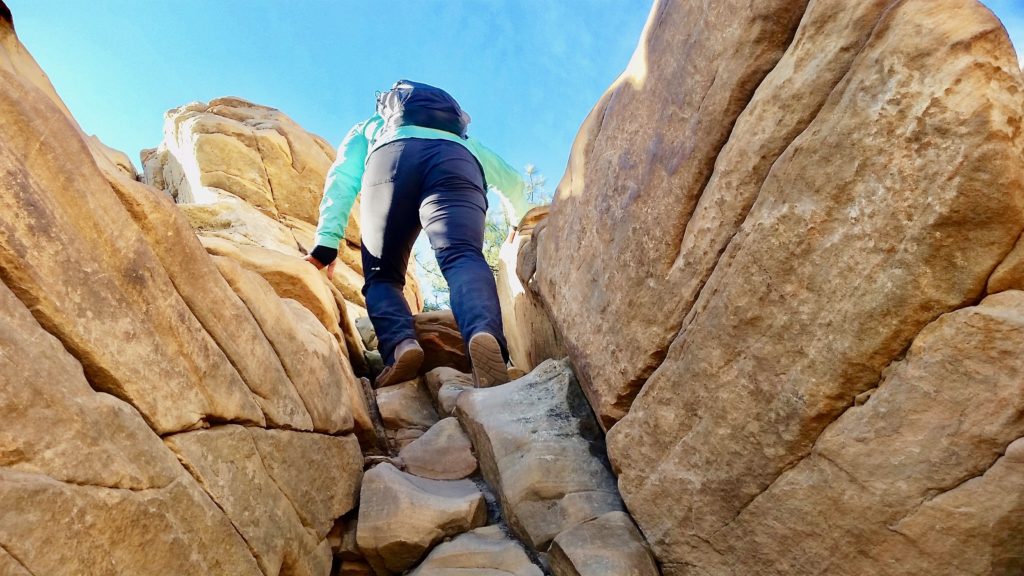 The next morning I woke up around 6AM to get ready for Angels Landing!  I had heard so many incredible things about this hike but the most important tip I got was to GO EARLY.  This is so important because there are some really technical parts of this hike and if there are a lot of people, it can take forever.  I got on the very first shuttle that morning in order to beat the crowds.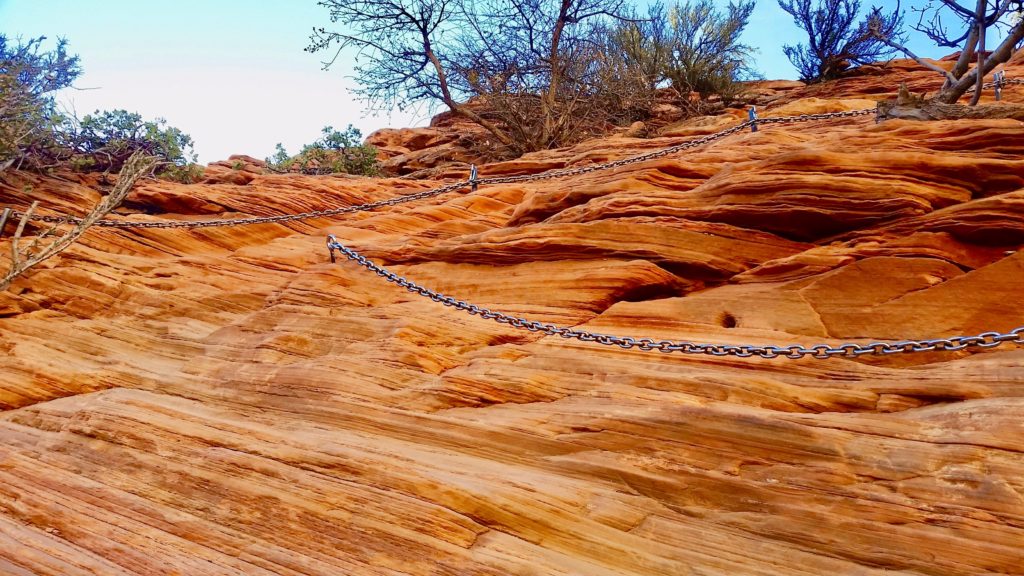 In 1916, an explorer named Frederick Fisher proclaimed "only an angel could land on it", thus giving Angels Landing it's name.  Angels Landing is a 5 mile roundtrip hike.  When I started up Angels Landing, I was surprised at how easy the terrain was because the first 2 miles is actually paved.  I heard it was a very challenging and steep hike but it wasn't too bad.  Once you get closer to the top, it gets much steeper with sheer cliffs on each size walking along a very narrow track and rocky steps with chains attached to the rocks to hold onto.  You really have to watch your footing up there and hold onto the chains!  Once you finally get to the top, you are rewarded with the most incredible view!  It was so breathtaking and peaceful up there.  I really had to take it all in.  It was the best way to start the last day of my road trip.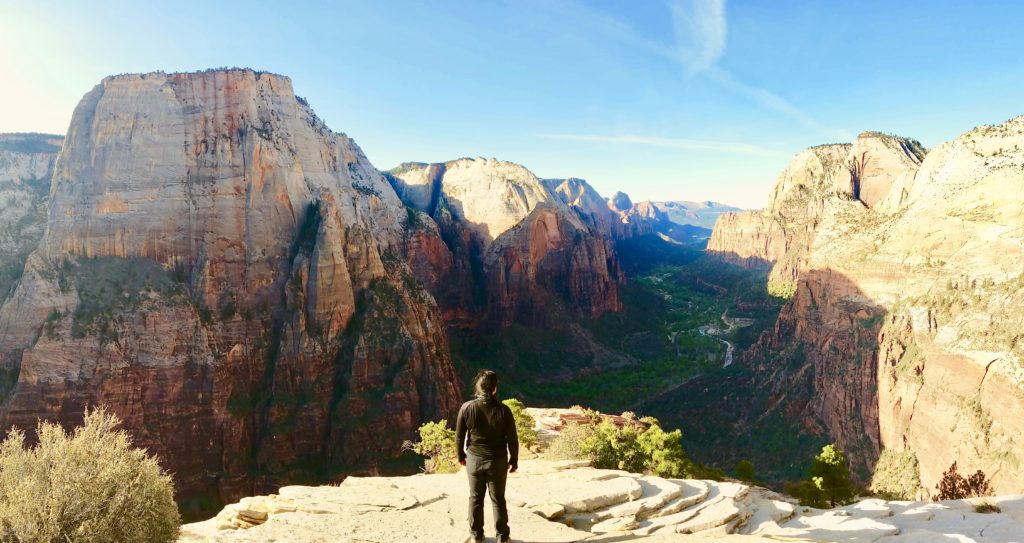 It takes most people 4-5 hours to finish Angels Landing but it took me only 2 hours.  I was flying out later that day from Vegas so I was probably booking it a little but I was even able to hang out at the top for a bit and enjoy the view.  Because I finished so early, I was able to fit in another short hike.  I met a couple at the visitor center the day before who told me to check out Canyon Overlook.  It was on the other side of the park but I was heading that way to exit the park so I decided to hike the short one mile trail.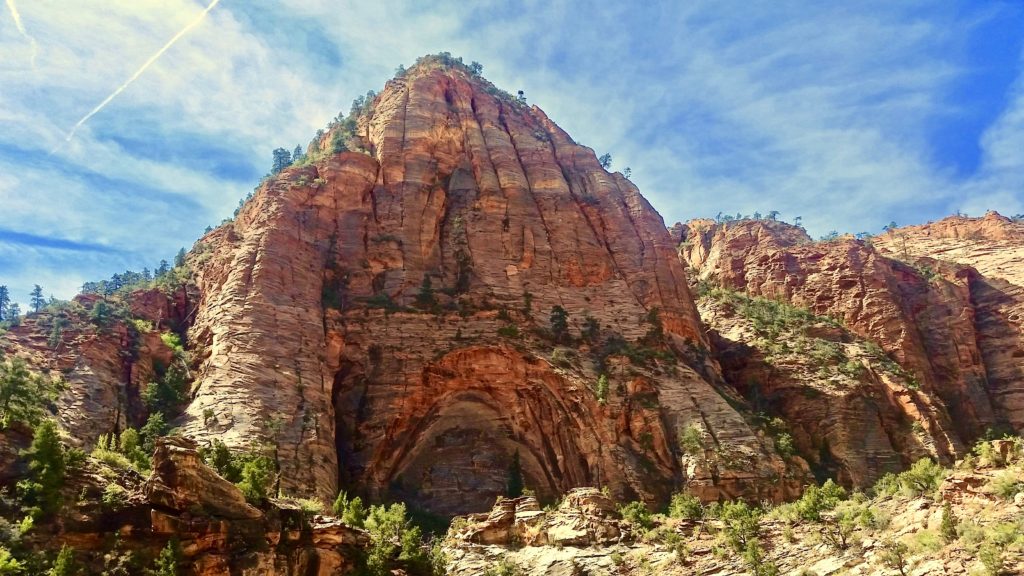 Canyon Overlook was just incredible!  You can view the canyon from every single step on this trail and while it was steep, it is only one mile long so it's really not that bad.  I also saw some Bighorn Sheep on my way back to my car!  I wanted to see them on my trip so this hike was really the perfect way to end my road trip through Utah's Mighty 5 and The Grand Canyon.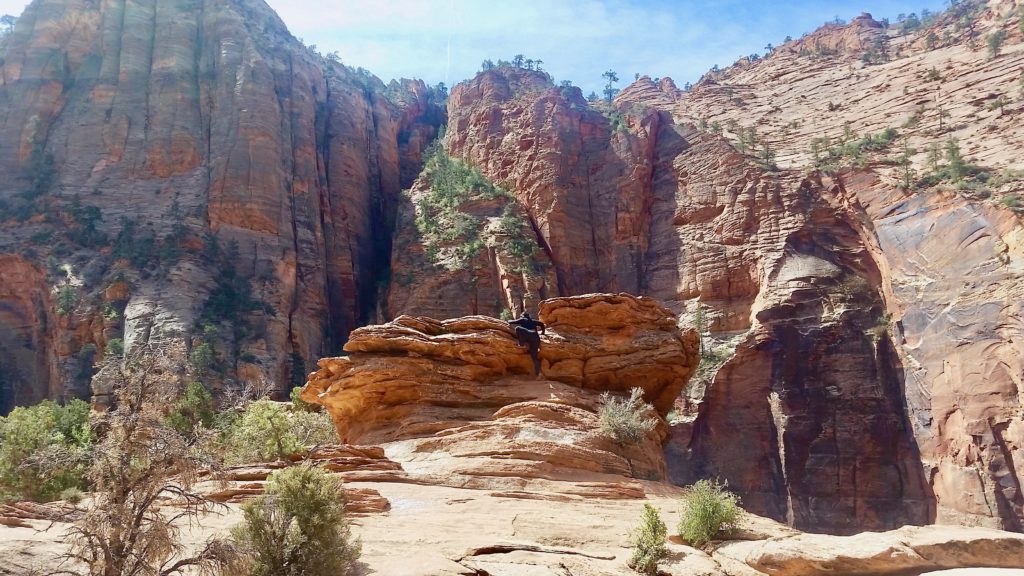 While I still have quite a few more National Parks to visit, being able to visit 6 National Parks on this incredible road trip was truly amazing.  I am in awe of how uniquely different each National Park is and can't wait to see what the rest of them will have to offer.  How many National Parks have you visited?  Let me know in the comments below!