After I finished Milford Track, I vowed to myself, I would do Routeburn Track no matter what.  I planned on going to the DOC office the next day to see if any huts were available.  Luckily, I didn't have to, as Joyce from the Idaho group was impaled in the leg by a tree trunk on her way to the Milford Sound Lodge.  She was helicoptered to Te Anau, happened to be staying at my hostel and gave me her ticket!  I was so grateful for the chance to see what Routeburn Track was all about but wished it was under different circumstances.
So, I literally had one full day to plan for Routeburn Track.  I had to rent my gear for another 4 days and buy more food from the grocery store.  I decided to try couscous with dehydrated peas because I met this girl, Giza from Germany, on Milford Track making this for dinner every night.  It was much healthier and more filling than my ramen.  I decided to stick with some of the same foods as they seemed to work well for me but picked up some new stuff as I didn't quite have enough food on Milford Track.
I also had to figure out how to get back to my car and decided on Tracknet, a shuttle that would pick me up from my hostel and at the end of the track 4 days later.  I would have to stop in Queenstown for 2 hours and then take another shuttle to Te Anau but I felt like this was better than having my rental car sitting at the car park with all of my stuff in it.
Routeburn Track is 33 kilometers or 19 miles long.  It can be done in 1 or 2 days but my ticket was for 4 days and 3 nights.  Most people start the track from the Routeburn Shelter, which is closer to Queenstown, but I started it at The Divide, as it was closer to Te Anau.  The first day of Routeburn Track only took an hour, much like Milford Track, but the first stretch from The Divide was steep and rocky.  Plus, carrying a pack full of food for 4 whole days didn't help much.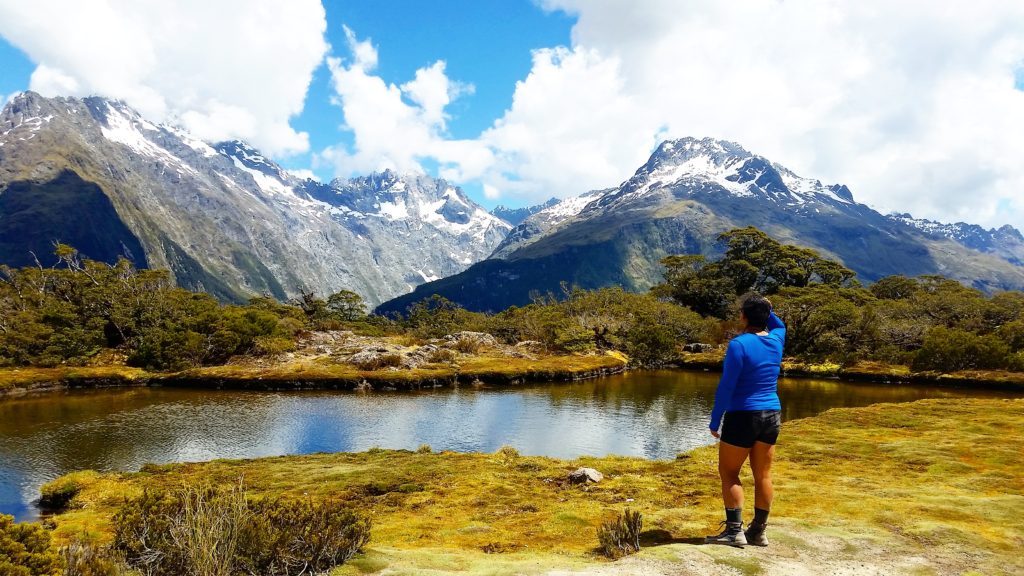 One of the side hikes on this part of the track is Key Summit.  I was planning on doing this hike if I was unable to get a hut for the entire track.  It is called Key Summit because it connects the Hollyford, Greenstone and Eglinton Valleys.  The view from here was perfection!  There are tarns (bogs on a mountain) everywhere and you can see all of the mountains around you, if the weather permits.

After I hiked Key Summit, I decided to explore the Greenstone Track.  This track has been around since 1860!  It was beautiful, filled with deliciously mossy forests, overflowing waterfalls and I even found this lake to enjoy.  There was no one else on this track either which was probably my favorite part.
I hiked back to Lake Howden Hut and saw my friends from Milford Track had arrived!  We all chatted for a bit and claimed our bunks for the night.  The huts on Routeburn Track are very different than Milford Track because there are people going the opposite way or only stopping for a night since most people take 2 days to complete this track.  This is one of the things I didn't enjoy about Routeburn because I felt like at Milford Track we were the only ones there.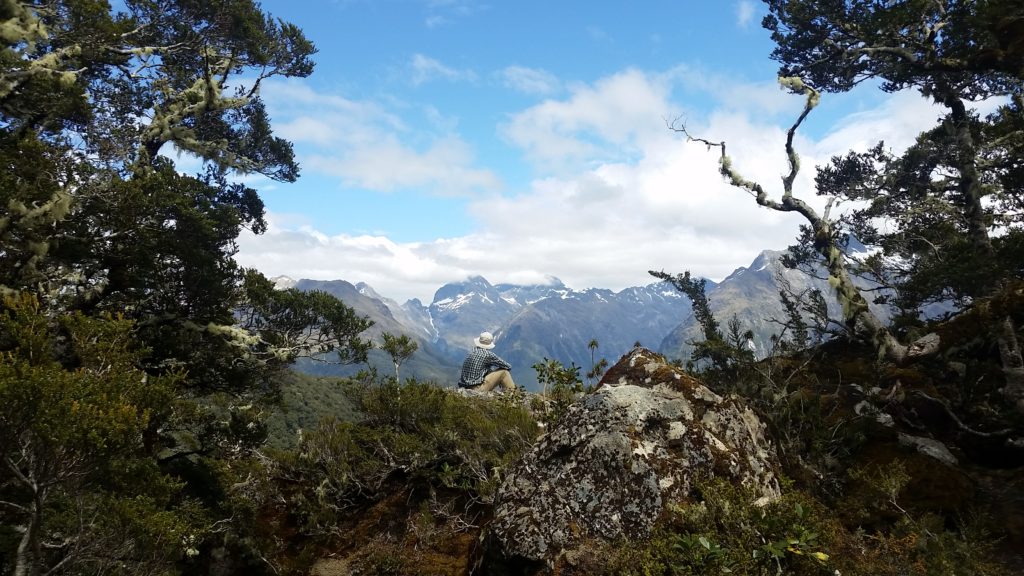 The second day of the track was not too challenging but it was a gradual uphill climb.  I ended up going back to Key Summit with Gareth and then we started making our way to the next hut.  We passed by Earland Falls which was impressive, although not as big as Sutherland Falls from Milford Track, and stopped to enjoy it for a bit.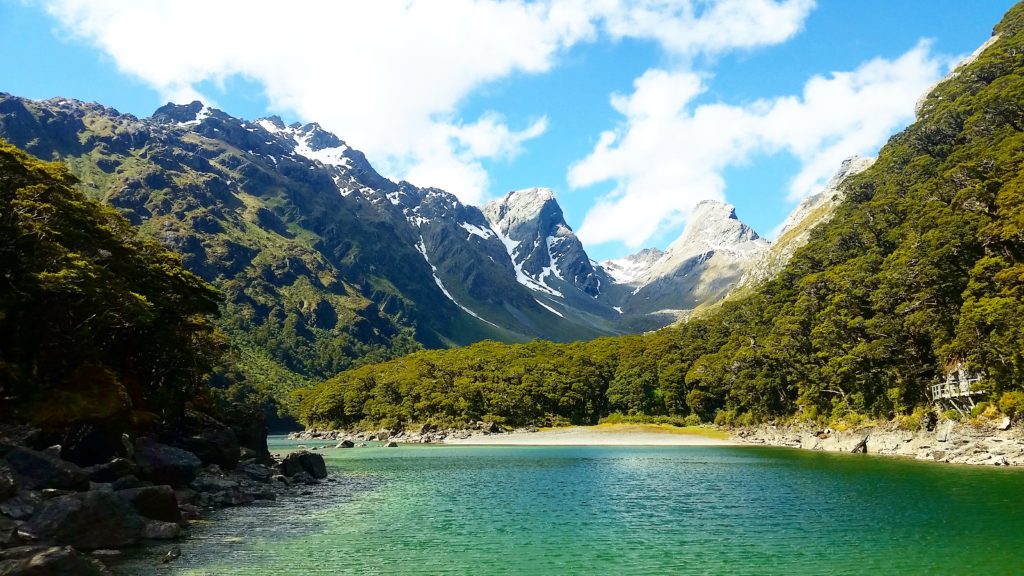 Lake Mackenzie Hut was my favorite of the huts on the Routeburn Track.  This was the view from right in front of the hut!  It was here that I met Jackie, an accountant from Denver, Colorado, which is where my sister lives.  We bonded as we were both single females backpacking solo.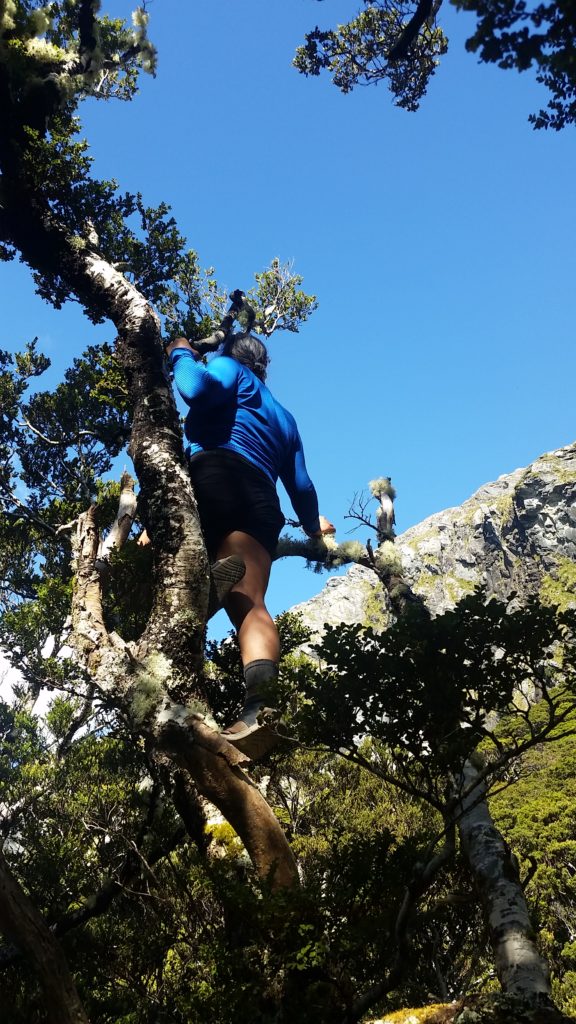 Later, Jackie, Gareth and I hiked to Split Rock and adventured our way all around the lake, climbing trees and traversing rocks.  It was the funnest time I had on the track, hands down.  Jackie and I decided to stay up until it got dark so we could see every single star in the sky but it ended up being cloudy and foggy so it was kind of a wash.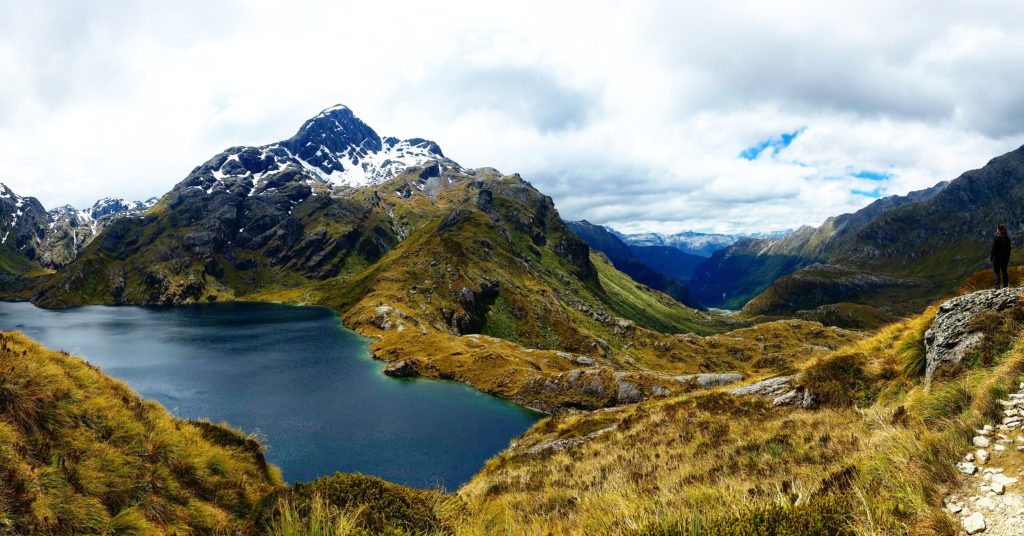 I knew the third day would be the hardest day on the track but it really wasn't that bad.  It started out foggy and even started sprinkling but not enough to get soaked.  Even though most people start at Routeburn Shelter, I highly recommend starting at The Divide so you can be absolutely shocked at the beauty of Harris Saddle!  This view literally made me cry and I stayed here for a good hour or so just taking it all in.  After Harris Saddle, you are wowed by waterfalls and creeks and I loved it.  This was the best part of Routeburn Track!  If you are coming from Routeburn Shelter, this would be your second day on the track.
A couple from the UK who I met at Lake Howden Hut told me I had to go to Paddy's Point.  I dropped my pack at Routeburn Falls Hut and then made my way there.  It was a steep climb up a mountain and you could easily miss the turn off if you weren't looking for it.  This side hike was well worth the climb and you are rewarded with breathtaking views of the Hollyford Valley and tarns.  There is even a lake up there!  Highly recommend checking out Paddy's Point as it's not far from Routeburn Falls Hut.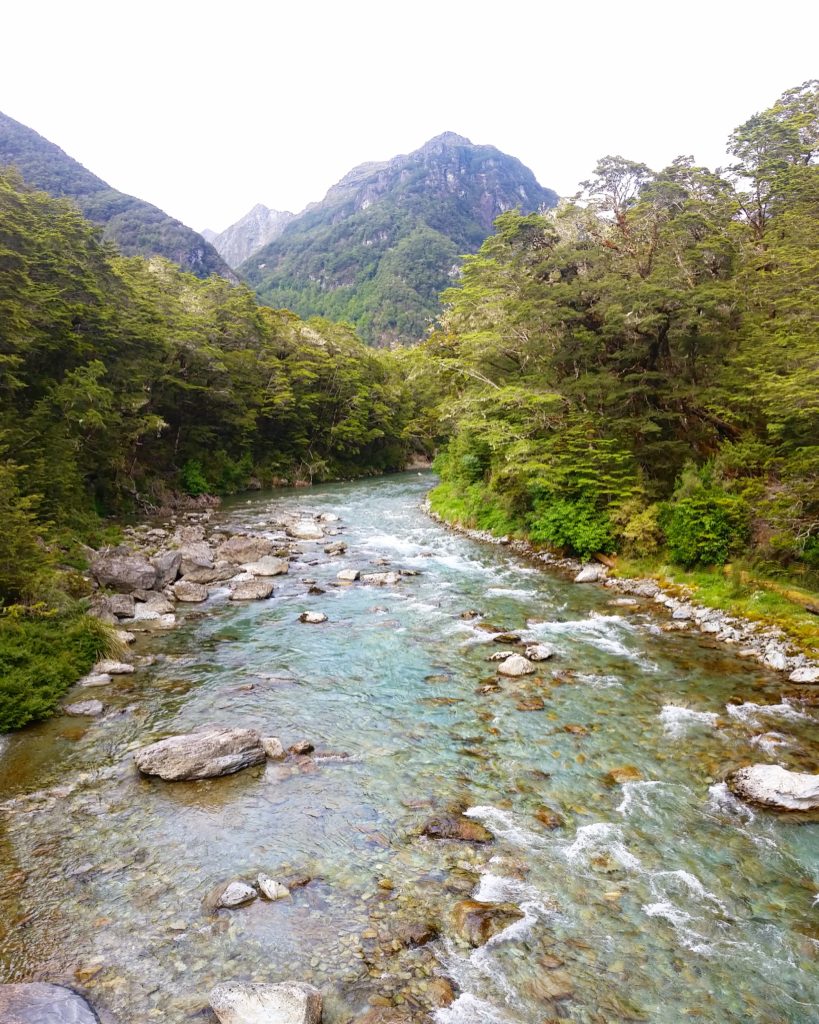 The next day, I had to leave early because my shuttle was picking me up at 10AM.  I said my goodbyes to Gareth and the Idaho crew.  I told them I felt like a changed woman and I was so happy I was able to experience Routeburn Track with them.  I was quite emotional for the last part of the track and I cried a bit on the way to Routeburn Flats Hut where I decided to sit and collect my thoughts for awhile.  The entire track was unreal and I am so thankful for the chance to do both Milford Track and Routeburn Track on this trip to New Zealand.  Both were wonderful in their own way but it was Routeburn Track that truly stole my heart.