Milford Track is one of nine Great Walks in New Zealand. It has been called "the finest walk in the world" and ends at Milford Sound which has been called the Eighth Wonder of the World. It is 53 kilometers or 33 miles long and you have to reserve huts for this Great Walk well in advance as they only have room for 40 people in a hut at a time. Some people opt to do the lodging which is over $2000 but you don't have to carry any of your gear, food is cooked for you and there are hot showers.
I arrived in Te Anau after doing some grocery shopping for my very first time backpacking! I picked up some ramen, salami, crackers, Vegemite, bread rolls, pouches of tuna, baby food, oatmeal, tangerines and some other small things. Being my first time backpacking, I was unsure what would work and what wouldn't. Also, I didn't exactly buy the healthiest of foods because fresh food wouldn't last me the entire 4 days on the track so I had to make do with processed stuff I don't normally eat.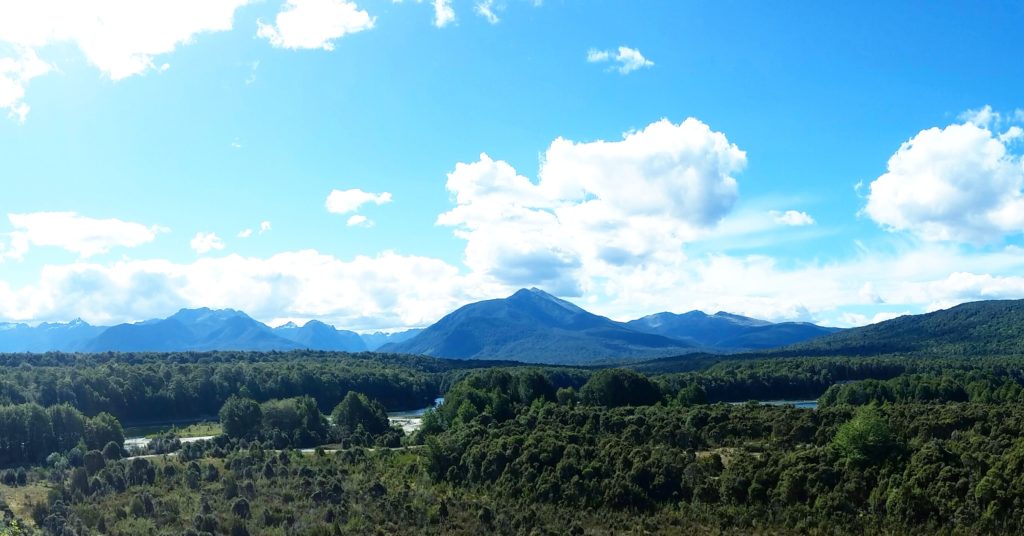 After checking into my hostel, I stopped by Outdoor Sports to rent a backpack, sleeping bag and camping pot. Then, I headed to Rainbow Reach which is part of the Kepler Track, another Great Walk in New Zealand. I thought it was great it was so close to Te Anau and I could easily get in a day hike there. The views from the track were beautiful and I couldn't wait to see how Milford Track would compare.
Later that day, I saw Alex, a nurse from Canada who I met in Wanaka, in my hostel room. Turns out, we were staying in same room! What a small world.. We both found out we would be doing Milford Track together in Wanaka so it was good to see him. It was, however, not fun being woken up in the middle of the night because of his sleep apnea.
I ended up stuffing my pack with everything I needed and didn't need. It was really heavy by the time I put it on and I felt like I was going to fall backwards. I figured it was better to be overpacked than underpacked but later found out, it's better to pack smarter.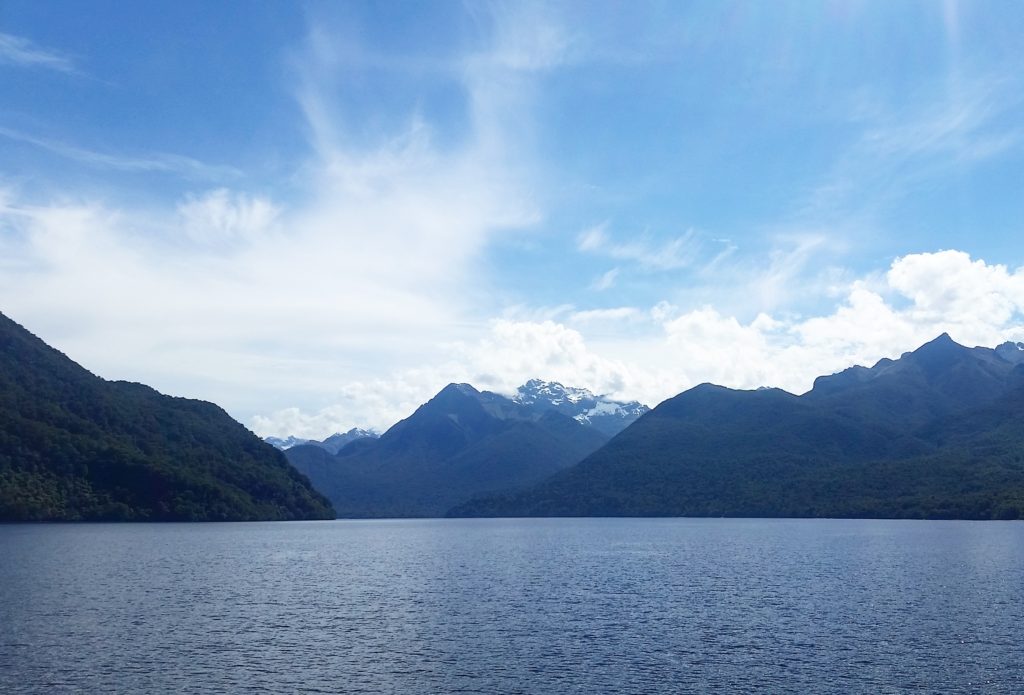 Everyone that does Milford Track has to take a boat to the start of the track. My boat was at 10AM. I was in awe on the way to the island as the views were just jaw dropping and visually stunning. Only 40 people can stay in a hut so over the course of 4 days, you become very close with those 40 people and they soon become your family. They help you out if you need it, they give you food if you didn't pack enough and they race you to the top of the mountain because you are just that competitive.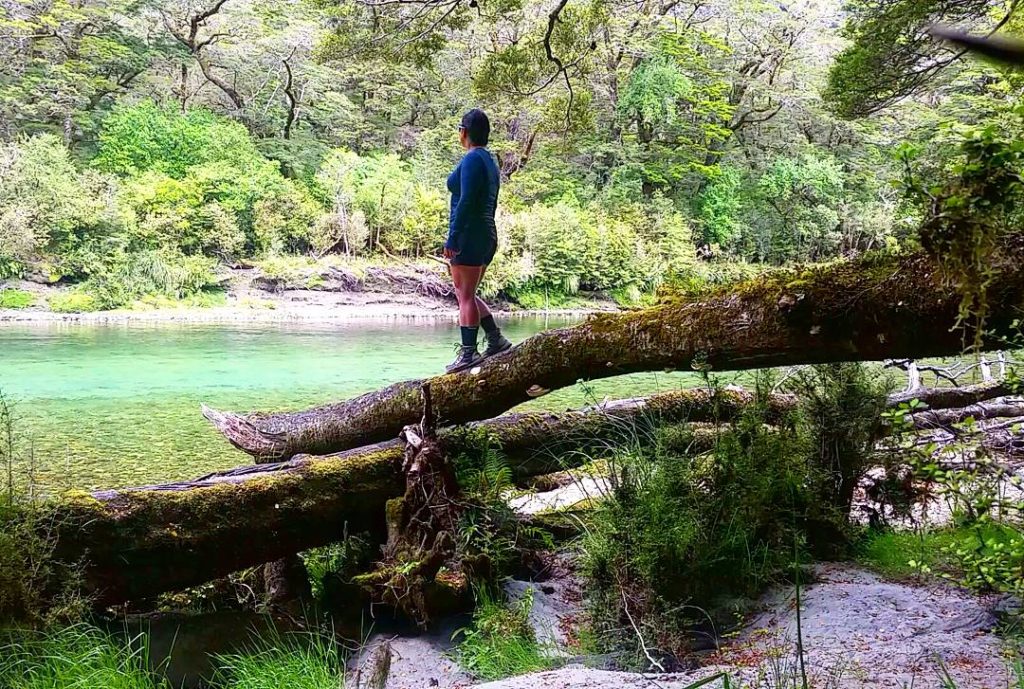 The first day of Milford Track only takes an hour. I was the first one to arrive at the hut with Gareth, a Kiwi from Christchurch, fresh on my heels. Gareth was also staying in the same hostel as me and saw me packing my bag like a crazy woman earlier that morning in the hallway. He found me later on the boat ride to the start of the track and that's how we officially met. Gareth ran the Queenstown Marathon the same weekend I was in there, did the Kepler Track a day after, was doing the Milford Track with me and would also be doing Routeburn Track a day after we completed Milford. He was carrying 60 pounds of gear and food since he was doing Routeburn Track after Milford Track and there wouldn't be a grocery store to replenish his food stash. Talk about an endurance athlete!
At Clinton Hut, I met a group of hikers from Idaho. Joyce, Jackie, Kristen and Greg. They were such a fun group and I enjoyed talking to them! It was great to meet other Americans on the track. I met Katie from Washington DC at this hut. She turned out to be one of the people I would get to know the best on the track. Although we didn't hike together, we would always hang out when we got to the hut at the end of the day. I also met an older couple from Belgium who were trying backpacking meals for the first time ever. It was funny to see their reaction to them and we chatted about my time in Belgium last year.
The second day started off foggy but with no rain. I got started early because there was rain in the forecast later that day. This part of track was filled with ethereal fairy like forests covered in moss and beautiful hidden waterfalls. I snuck out to the Hidden Lake track even though it was closed off due to avalanche danger. It was a hidden treasure in the middle of the forest and a welcomed getaway. I made my way back to the track and continued on with the relatively flat trail. I knew the next day we would be in for some climbing!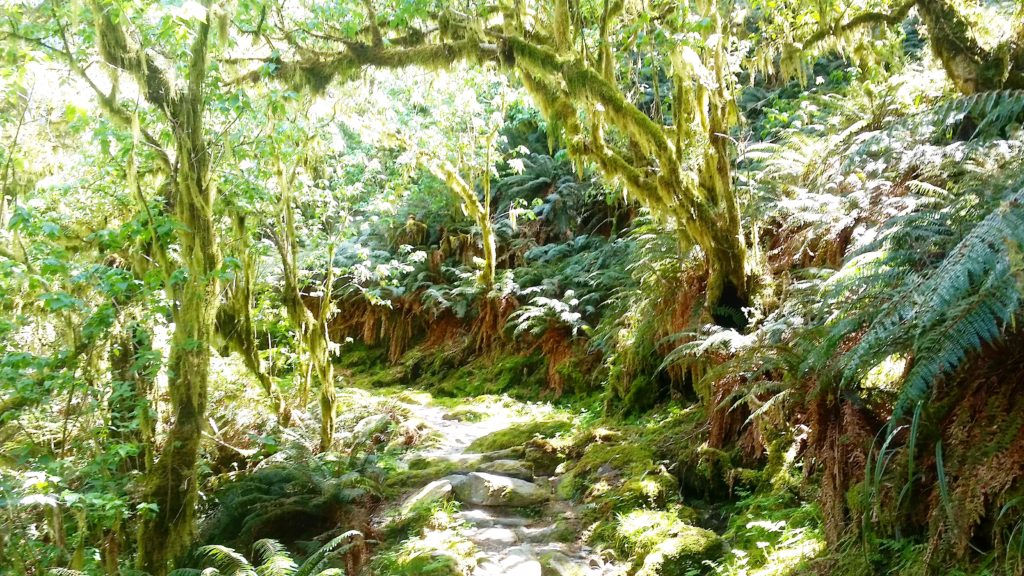 When I arrived to Mintaro Hut, after trying to foot race Gareth to the top, I realized that the 3 brothers from Colorado had already beat us there. By this time, the weather had totally cleared up so we all decided to go swimming. But then realized that just jumping into the water, screaming our heads off and running out seemed like a better idea. After we went "swimming", we ended up checking out the trail we would be climbing the next day. Gareth ran up to the top all the way to Mackinnion Pass but the brothers and I only went up about 2 miles and then decided to head back to the hut.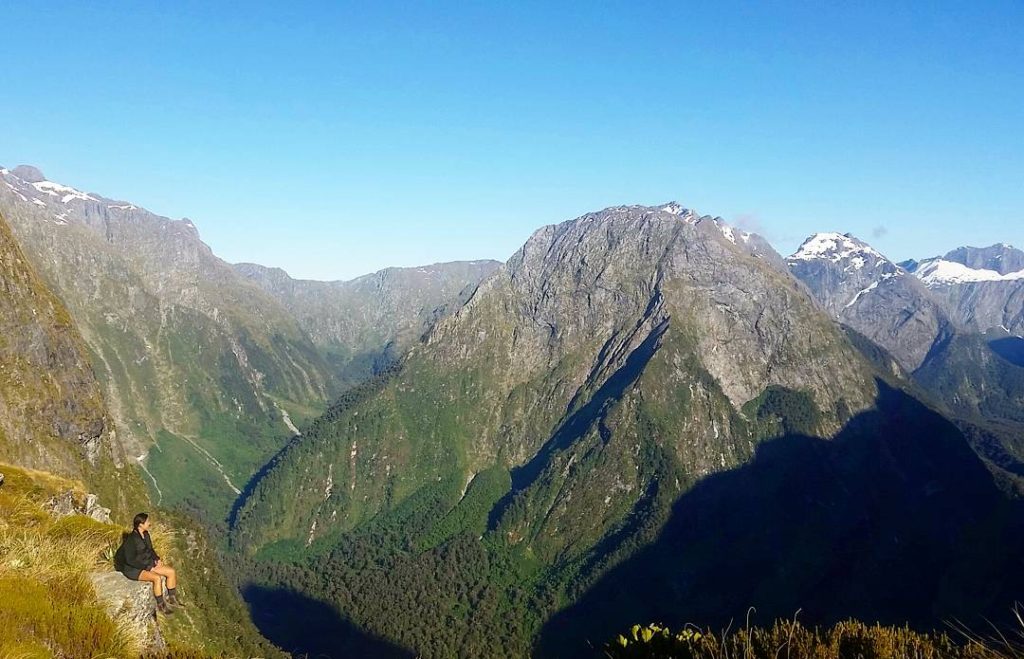 The third day was the hardest of all the days on the track because of the steep grade of the hill we had to climb. It was about 3 miles or 5 kilometers long but the view from the top was amazing. I got to the top with the Colorado brothers and we hung out there to take it all in. It was breathtaking and literally brought tears to my eyes. I knew I would remember that view and the way I felt at that moment for the rest of my life.

The way down the track was super rocky and steep. A few people got injured on this part because of the terrain. There was a side hike to Sutherland Falls, the highest waterfall in New Zealand, which took about 45 minutes to hike to. I left my stuff at the shelter at the base of the falls and made my way up. It was steep with stairs but I don't regret making this detour at all. A lot of people opted out of this hike but it was one of my favorite parts of the track. You feel like you are on a secluded island when you are here and you can feel the mist from the falls just standing in front of it. I ended up hanging out at Sutherland Falls for almost 2 hours before heading to the last hut.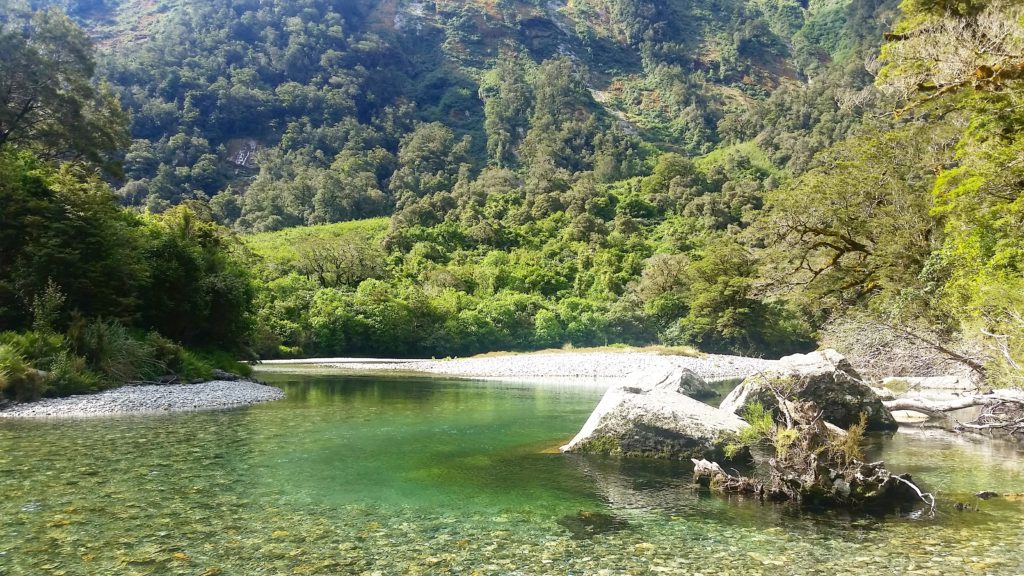 Dumpling Hut was my favorite hut of the track. There was an awesome river with rocks for jumping off and almost everyone got into the water. It was amazing, picturesque and the last time we would all be together as a group. We knew the next day would be easy so we all tried to stay up until 10PM talking about life, Milford Track and plans for the rest of our trip in New Zealand.
Gareth and the group from Idaho were planning on the Routeburn Track and I told them I was going to try to find huts for it so we could all be reunited again. I had only heard great things about Routeburn Track and it's beauty so I wanted to try to get a hut for at least one night as it is only 33 kilometers or 19 miles long. I wanted to compare these two Great Walks to see which one I felt was more visually impressive so I could give people an honest answer.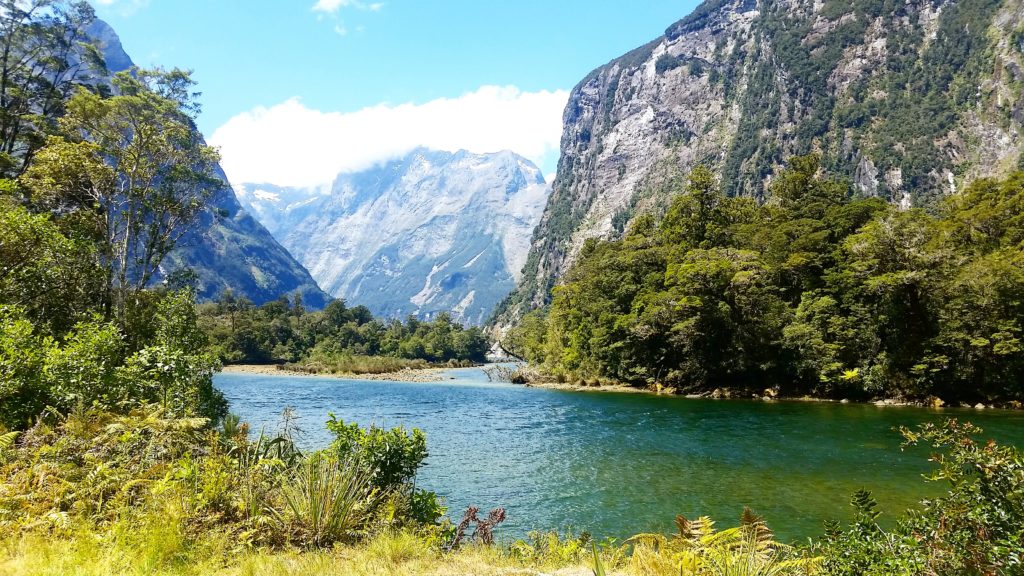 The last and final day of Milford Track was also my birthday! I only told a few people on the track. It was the best way to spend my birthday and I couldn't help but stop and take my time through the rest of the track although I wanted to get to Milford Sound in time to take a cruise. I ended up making it to the 2PM boat and got to Milford Sound before 3PM. The cruise I took was at 3:10PM and I would get back in time to take the shuttle back to my car. Talk about perfect timing!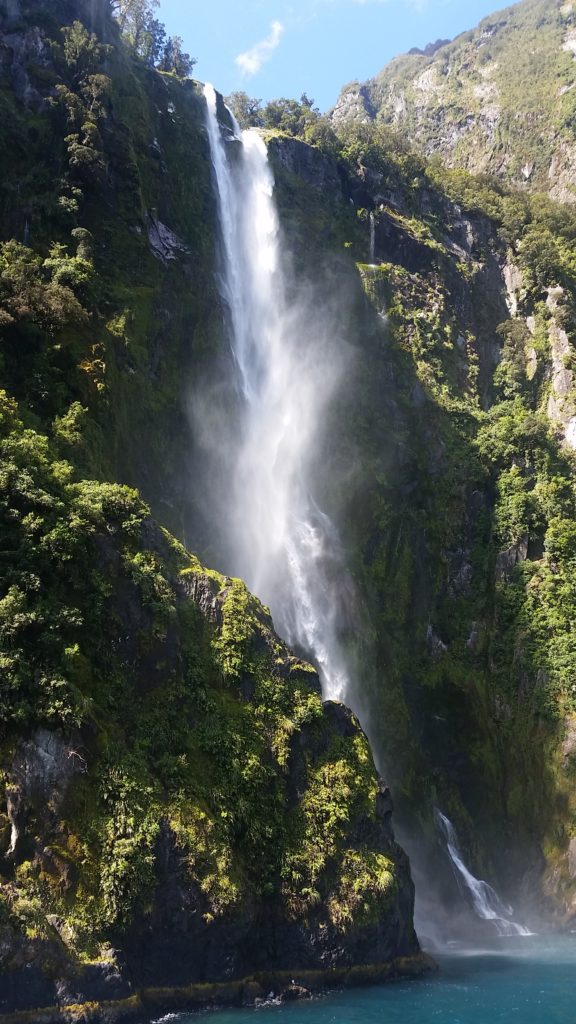 The Milford Sound cruise was amazing! It was absolutely the best way to end my Milford Track experience and celebrate my birthday in New Zealand. I even saw penguins! They were so cute and little. After the cruise, I took the shuttle back to my car and me, Katie and another couple from the track ended up going to dinner to eat pretty much everything we could.
I was unaware of how life changing Milford Track would be for me. I didn't expect to make so many new friends, see so many incredible views and feel like a completely different person at the end of it all. Milford Track changed my life. I am so grateful for the opportunity to have experienced this Great Walk and the people I met along the way.