I only travel with a backpack so having products that are dual purpose and leave only a small footprint are a must.  Here are my favorite backpacking must haves you should definitely try adding to your list!  Please note, I do not get paid to promote these items.  They are just honest product reviews that are tried and true.  Click on the image to visit the website.
Dr. Bronner's 18-in-1 Liquid Castile Soap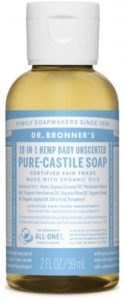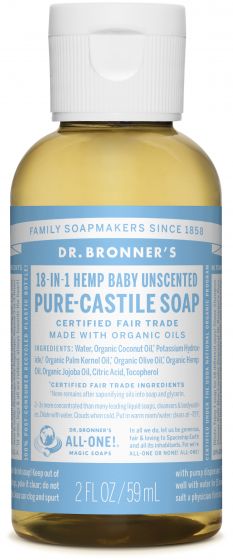 This soap is a multipurpose, liquid castile soap made only from organic oils.  I love the Baby Unscented for everything from washing my clothes to body wash.  You can also use it for shampoo, toothpaste (they have a peppermint version), face wash, dish soap and more!  I buy the 2 ounce travel size and it can last me an entire month because it is so highly concentrated.  Love this product!
Packtowl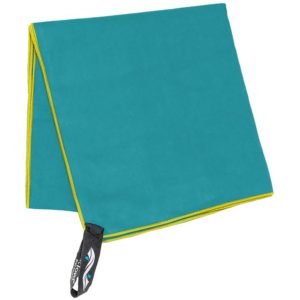 An amazing product you will want to bring on your next trip!  It is a quick drying towel that folds up to be very flat and compact in your backpack.  Not only that but it's super absorbent and can soak up 4x it's weight in water, so while looks can be deceiving, this towel gets the job done.  I love the beach sized towel for tropical destinations.  I lay it in the sand and then dry myself off when I get out of the water.  I also use it when I'm at a hostel and get out of the shower.  It's the perfect towel for any backpacker!
Honest Wipes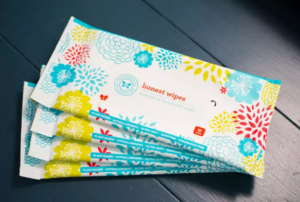 These unscented plant-based baby wipes have saved me so many times.  I love them to clean my hands, use them when there isn't any toilet paper around or to wipe down anything that might be questionable.  They are also biodegradable and hypoallergenic with zero chemicals!  I usually pack a travel sized pack of 10 wipes in my backpack for any trip.  I even keep a pack in my car for whatever I might need them for.  They are perfect for camping as well!